Concerts
You may be wondering since the Guild already plays twice everyday, how are concerts special?
Every year the Guild plays a series of concerts with a formalized program that we publicize and distribute programs for. This includes themed concerts such as the Halloween, December Holiday, and Valentines Day Concerts as well as concerts for each Heel class where we play a mixture of pieces composed for the carillon and pieces related to our punny title.
Previously audiences could only enjoy the concert from the base of the tower and could not see what goes on inside the playing cabin but today you can now have a first row seat in the playing cabin on the videos right on this website! Please enjoy!
---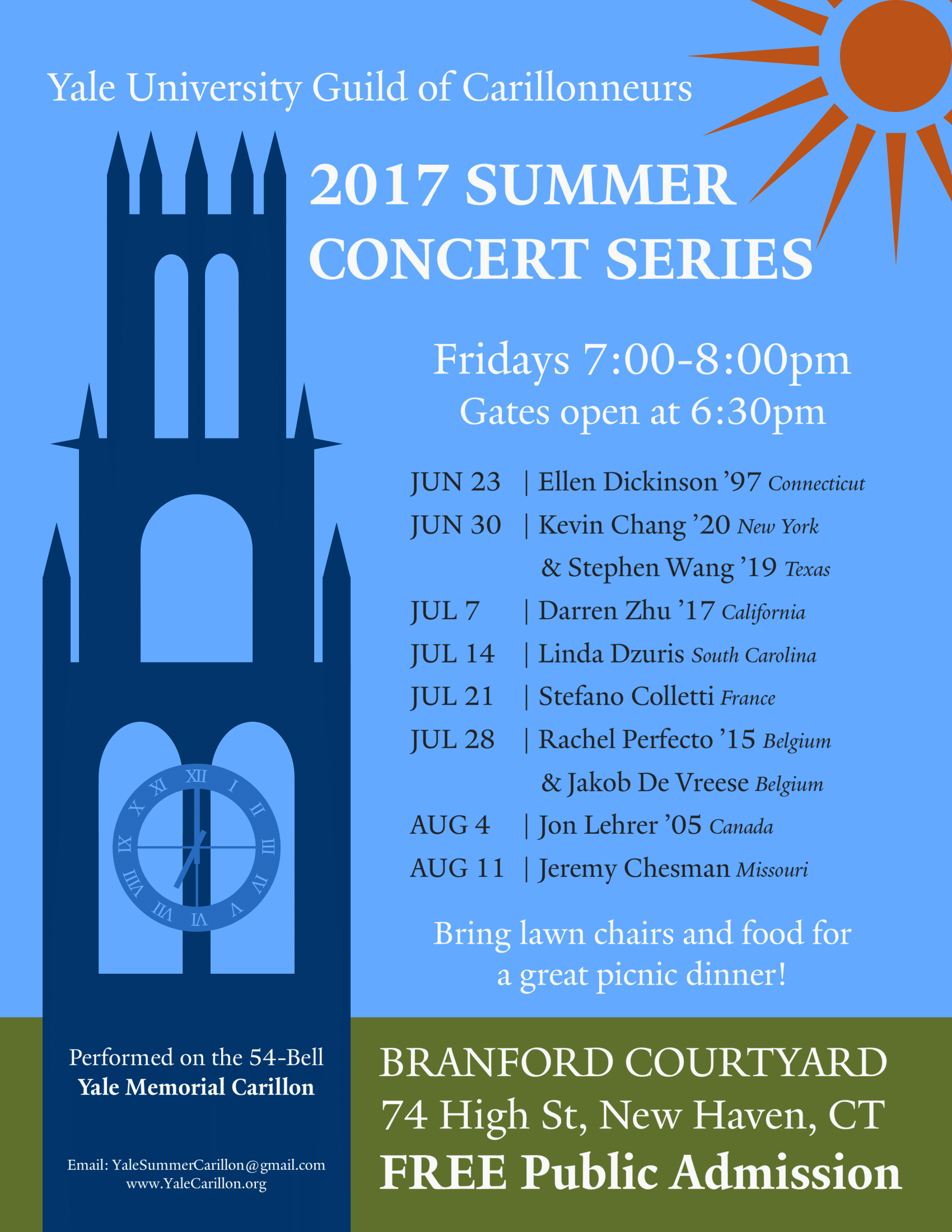 Summer Concert Series 2017
Jun 23, 2017
The Summer Concert Series 2017 was organized by Stephen Wang and Kevin Chang
Click here for the program
Schedule
| Date | Performer |
| --- | --- |
| Jun 23 | Ellen Dickinson |
| Jun 30 | Summer Carillonneurs (Kevin Chang & Stephen Wang) |
| Jul 07 | Darren Zhu |
| Jul 14 | Linda Dzuris |
| Jul 21 | Stefano Colletti |
| Jul 28 | Rachel Perfecto & Jakob De Vreese |
| Aug 04 | Jon Lehrer |
| Aug 11 | Jeremy Chesman |
---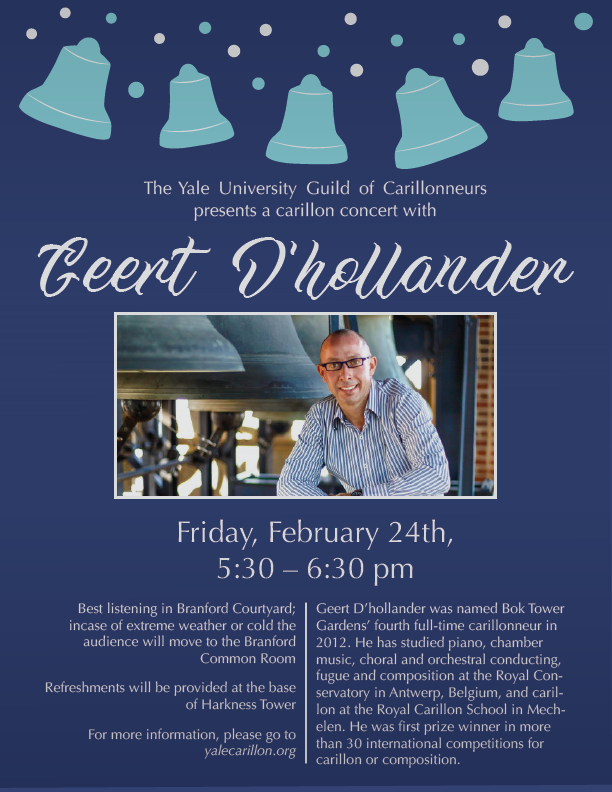 A Carillon Concert with Geert D'hollander
Feb 24, 2017
Geert D'hollander was named Bok Tower Gardens' fourth fulltime carillonneur in 2012. He has studied piano, chamber music, choral and orchestral conducting, fugue and composition at the Royal Conservatory in Antwerp, Belgium, and carillon at the Royal Carillon School in Mechelen. He was rst prize winner in more than 30 international competitions for carillon or composition.
In 1997, D'hollander succeeded Ronald Barnes as University Carillonist and Professor of Carillon at the Department of Music at UC Berkeley. In 2008, he was awarded the "Berkeley Medal of Honor" for "Distinguished Service to the Carillon". Until 2012, when Geert moved to Florida, he was teaching carillon and composition at the Royal Carillon School "Jef Denyn" in Mechelen, and was the city carillonneur of the historical instruments of Antwerp Cathedral, the belfry of Ghent, and the Basilica of Lier (Belgium).
He frequently gives master classes in Europe and the U.S. and performs all over the world.
Click here for the program
Program
---
Summer Concert Series 2016
Jun 24, 2016
The Summer Concert Series 2016 was organized by Tommy Kilmer, Heather Wang, and Agata Sorotokin.
Schedule
| Date | Performer |
| --- | --- |
| Jun 24 | Eddy Mariën |
| Jul 01 | Ellen Dickinson |
| Jul 08 | Kymberly Stone |
| Jul 15 | Mathieu Polak |
| Jul 22 | Summer Carillonneurs (Thomas Kilmer, Agata Sorotokin, Heather Wang) |
| Jul 29 | Lisa Lonie and Janet Tebbel |
| Aug 05 | Andy Zhang |
---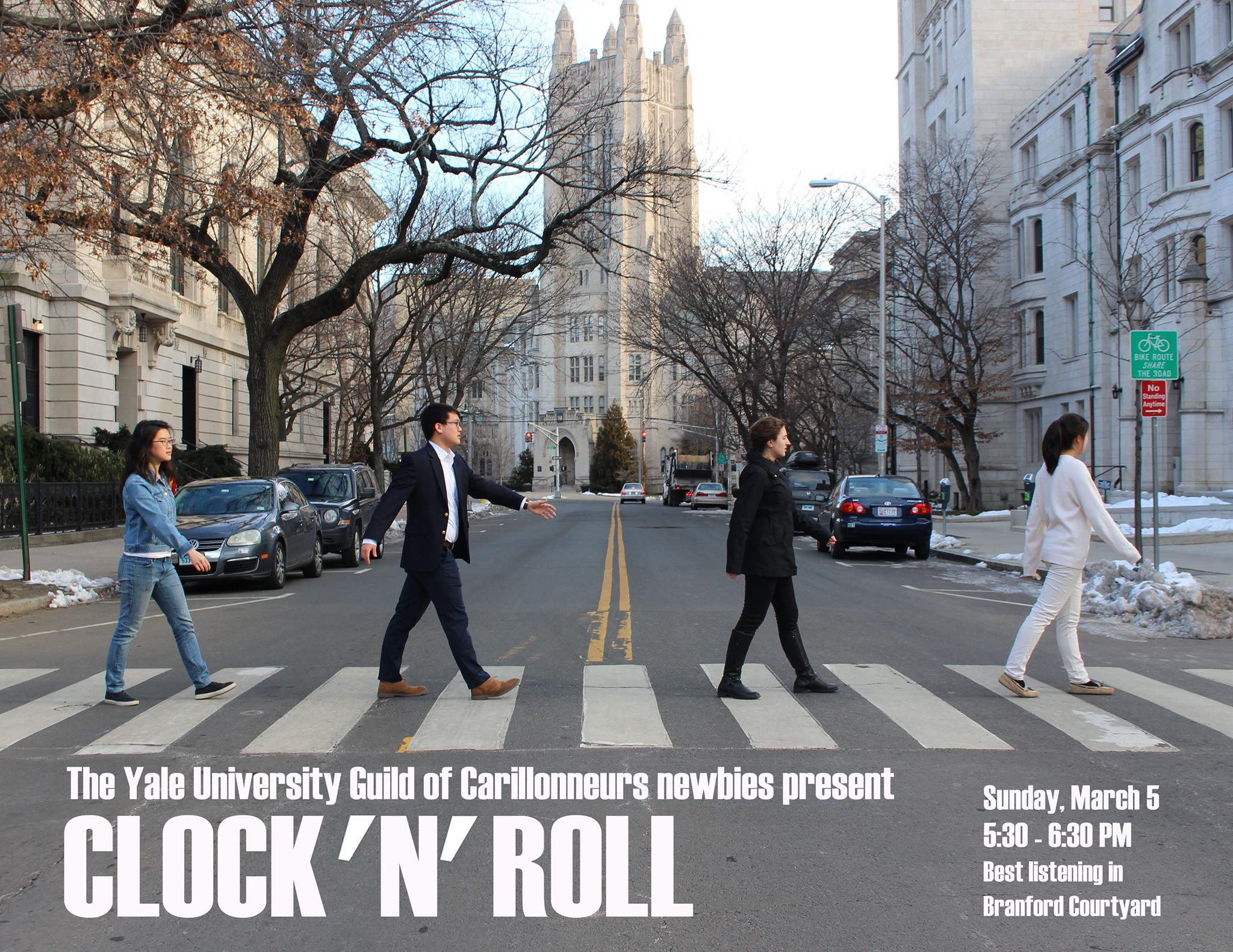 CLOCK'N'ROLL
Mar 05, 2016
Newbie concert, heel class of 2015 featuring Agata Sorotokin, Heather Wang, Joy Chiu, and Stephen Wang
Program
| Title | Composer | Performer |
| --- | --- | --- |
| Bohemian Rhapsody | Queen | Agata Sorotokin & Joy Chiu |
| Joyeux Carillon | Geo Clement | Joy Chiu |
| Sonatine II | Sjef van Balkom | Stephen Wang |
| Crocodile Rock | Elton John | Heather Wang & Agata Sorotokin |
| Slane (Be Thou My Vision) | Trad. Irish Hymn | Joy Chiu |
| Bunessan (Morning Has Broken) | Trad. Irish Hymn | Joy Chiu |
| Prelude, from Cello Suite No. 4 | J.S. Bach, arr. Ronald Barnes | Agata Sorotokin |
| Hey Jude | The Beatles | Heather Wang & Joy Chiu |
| Sonata III. Frolic (Rondo) | Robert Moore | Heather Wang |
| Memory | Liesbeth Janssens | Agata Sorotokin |
| Somebody to Love | Queen | Stephen Wang & Joy Chiu |
| Sicilienne | Ronald Barnes | Heather Wang |
| Reverie | Joey Brink | Stephen Wang |
| Hotel California | The Eagles | Joy Chiu, Agata Sorotokin, Stephen Wang, Heather Wang |